Don't let foot pain stop you, take control and stomp it out
Foot pain can be such a nagging bore and limit your enjoyment of the day.
No matter the cause there is usually a solution, you are not alone!
Why put up with the frustration and limitation of foot pain?
I cannot be shocked, I do not judge, I just want to get you back to living and loving life.
You have the problem,
I have the solution
Easy parking right outside the building
Warm and welcoming environment
Later appointments available for those busy bees
Accurate diagnosis
Effective treatment for your foot problem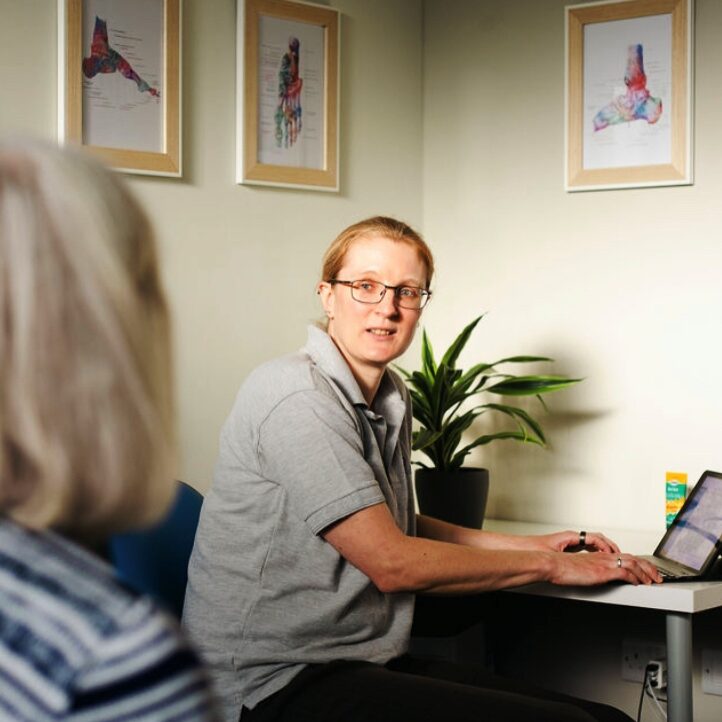 Nearly 20 years of keeping the people of Basingstoke and surrounding areas on the go
I know, I don't look old enough. But I've been helping the local community keep pain free and active since 2005.
I occasionally drop some gems of knowledge
If you'd like to get hints, tips and advice in your inbox, and keep up to date with what's new in the clinic then leave me your email address
I promise to respect your privacy. I won't send you unsolicited 'junk' email or share your data with anyone else who might. See my Privacy Policy for details.
FAQs about CF Foot Clinic, Basingstoke
A podiatrist is a specialist in the foot, ankle and lower leg. We diagnose and treat conditions of the feet and lower limb.
Training for a podiatrist is a 3-4 year Bachelor of science degree course. This includes a specified number of hours of hands on clinical training. 
Podiatrists are trained to treat a range of conditions, although some choose to specialise in a specific area. These conditions can include skin conditions like athletes foot, nail conditions like fungal nails and ingrowing nails, and biomechanical issues like forefoot pain, heel pain and ankle pain. We can also help in injury rehabilitation for injuries to the foot and lower leg.
Podiatrists have to be registered with the Health and Care Professions Council (HCPC) and they can be checked on the HCPC website.
If you are having foot or ankle pain, or a foot/ankle issue and you're not sure what it is, a podiatrist should be able to diagnose the problem and set up a treatment plan. We can also follow you through your treatment so you are not alone.
Providing Basingstoke Podiatry Services
Unit F, Loddon Business Centre,
Roentgen Road, Daneshill East,
Basingstoke, Hampshire RG24 8NG